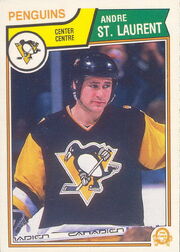 André St. Laurent (born February 16, 1953, in Rouyn-Noranda, Quebec, Canada) is a retired Canadian ice hockey forward.
St. Laurent started his National Hockey League career with the New York Islanders in 1974. He also played for the Detroit Red Wings, Los Angeles Kings, and Pittsburgh Penguins. He left the NHL after the 1984 season. He played the 1985 season for the Adirondack Red Wings. He later played in France for several seasons.
He started out in junior with the Montreal Junior Canadiens and their successor Montreal Bleu Blanc Rouge from 1970-73. The New York Islanders drafted him 4th (49th overall) in the 1973 NHL Amateur Draft.
St. Laurent played most of the next five seasons with the Islanders before being traded to the Detroit Red Wings in 1977 for Michel Bergeron, In 1977-78 he scored a career-high 70 points for the Wings.
He was again traded, this time to the Los Angeles Kings in 1979 as part of the Dale McCourt trade. His career was on the way down, though, as he moved to the Pittsburgh Penguins and then back to the Red Wings. Two years of minor pro and Spiller retired from North American hockey in 1985.
Moving to France, he spent five years playing with various teams before retiring in 1990.
In 644 NHL games, Spiller scored 129 goals and 187 assists. In the playoffs, he played 59 games with 8 goals and 12 assists.
External links