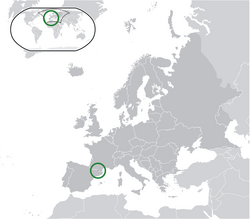 Andorra is a small country in western Europe. It is located on the border between France and Spain. It has a population of over 80,000.
Andorra

Info

Rinks

Players

Referees

Population

71 201

Indoor

1

Total

83

Male

0

Capital

Andorra la Vella

Outdoor

0

Male

38

Female

1

IIHF Since

May 4, 1995

Junior

41

Per Capita

Female

7

Andorra is a tiny little country in the Pyrenées mountains between Spain and France. in 1989 the first hockey club was founded in Andorra, named the Andorra Hoquei Gel (A.H.G).
During the 90's junior players from Andorra played games against juniors from France and Spain. They also played in the French lower leagues. After the millenium the juniors played in "Languedoc-Roussillon-Midi-Pyrénées" regional competition. In 2003-04 they shared their team with Font Romeau. there is an ice rink in Canillo. They hosted the 1997 D pool world championships
National Team
Edit
Community content is available under
CC-BY-SA
unless otherwise noted.