Amherstburg Admirals

City:
Amherstburg, Ontario, Canada
League:
Provincial Junior Hockey League
Division:
Stobbs
Founded:
1987
Home Arena:
Libro Centre
Colors:
Blue, Yellow, and White


    

    

    

General Manager:
Wes Ewer (2014)
Head Coach:
Paul Bortignon (2014-15)
Franchise history
1987-2013:
Kingsville Comets
2013-Present:
Amherstburg Admirals
The Amherstburg Admirals are a Canadian junior ice hockey club based in Amherstburg, Ontario, Canada. They are members of the Provincial Junior Hockey League Great Lakes Junior C Hockey League of the Ontario Hockey Association.
From 1987 until 2013, the team was located in Kingsville, Ontario as the Kingsville Comets.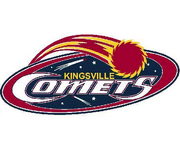 In the late 1980s the perennial powerhouse Leamington Flyers seemed poised to make a jump to the Western Ontario Junior B Hockey League. The GLJHL granted expansion to the Comets right on Leamington's doorstep. In 1992, the Flyers finally made the jump and a lot of the local skill attributed to the Flyers switched over to the Comets. Throughout the 1990s and early 2000s the Comets would be competitive. As the 2000s wore on, despite a newly renovated arena from the municipality, performance on the ice and attendance greatly declined.
In April 2013, the team had struck a tentative deal with the Ontario Hockey Association and the Town of Amherstburg, Ontario to relocate the struggling franchise. Amherstburg had recently constructed a new arena which only required minor upgrades to host a Junior C team. In 26 years in Kingsville the team failed to win a league championship or appear in the GLJHL final. Due to Kingsville's location, the Comets usually ran into either the Essex 73's or the Belle River Canadiens by either the division semi-final or final. In the Comets' 26 seasons, Essex and Belle River combined for 22 league titles.
On September 15, 2013, the Admirals made their hometown debut against the defending league champion Essex 73's. The Admirals would fall 6-0 in front of a sold-out crowd. Chris Wallace played the entire game for the Admirals, making 29 saves. The next night, the Admirals traveled to Wheatley, Ontario for their first road game and came home with their first win. Josh Lafromboise scored the Admirals' first ever goal at 10:38 into the first period and Dan Matoski scored the game winner 1:54 in the third to take a 6-4 victory over the Wheatley Sharks. Chris Wallace picked up the first ever victory in net.
Season-by-season record
Season
GP
W
L
T
OL
GF
GA
P
Results
Playoffs
Kingsville Comets
1987-88
40
4
35
1
0
115
277
9
10th GLJHL
DNQ
1988-89
38
7
30
1
0
168
296
15
12th GLJHL
DNQ
1989-90
40
19
20
1
0
155
173
39
6th GLJHL
Lost Semi-final (Belle River)
1990-91
42
11
28
1
2
144
239
25
9th GLJHL
DNQ
1991-92
40
18
21
1
0
213
225
37
7th GLJHL
Lost Quarter-final (Belle River)
1992-93
40
24
14
1
1
211
176
50
4th GLJHL
Lost Quarter-final (Belle River)
1993-94
42
15
21
4
2
177
186
36
7th GLJHL
Lost Quarter-final (Belle River)
1994-95
42
20
15
5
2
180
136
47
4th GLJHL
Lost Quarter-final (Mooretown)
1995-96
40
17
17
5
1
173
161
40
6th GLJHL
Lost Quarter-final (Belle River)
1996-97
40
26
12
2
0
179
124
54
3rd GLJHL
Lost Semi-final (Mooretown)
1997-98
44
19
18
6
1
142
156
45
6th GLJHL
Lost Quarter-final (Essex)
1998-99
40
28
10
0
2
199
138
58
4th GLJHL
Lost Semi-final (Belle River)
1999-00
44
24
14
2
4
201
147
54
3rd GLJHL
Lost Semi-final (Wallaceburg)
2000-01
40
24
10
3
3
158
101
54
2nd GLJHL
Lost Semi-final (Wallaceburg)
2001-02
40
20
13
4
3
166
134
47
3rd GLJHL
Lost Semi-final (Wheatley-Southpoint)
2002-03
40
21
12
5
2
159
136
49
4th GLJHL
Lost Semi-final (Essex)
2003-04
40
18
17
3
2
148
137
41
5th GLJHL
Lost Quarter-final (Dresden)
2004-05
40
22
16
1
1
141
133
46
4th GLJHL
Lost Quarter-final (Wheatley-Southpoint)
2005-06
40
22
16
1
1
182
156
46
5th GLJHL
Lost Quarter-final (Dresden)
2006-07
40
13
22
2
3
146
183
31
6th GLJHL
Lost Quarter-final (Wheatley-Southpoint)
2007-08
40
17
21
1
1
161
192
36
5th GLJHL
Lost Quarter-final (Belle River)
2008-09
40
9
29
-
2
129
209
20
9th GLJHL
Lost Quarter-final (Essex)
2009-10
40
12
26
-
2
148
223
26
7th GLJHL
Lost Quarter-final (Belle River)
2010-11
40
15
23
-
2
137
165
32
7th GLJHL
Lost Quarter-final (Belle River)
2011-12
40
9
28
-
3
108
182
21
8th GLJHL
Lost Quarter-final (Essex)
2012-13
40
11
26
-
3
119
169
25
8th GLJHL
Lost Quarter-final (Essex)
Amherstburg Admirals
2013-14
40
19
18
-
3
133
146
41
7th GLJHL
Lost Quarters - 3-4 - (Belle River)
2014-15
40
25
12
-
3
183
149
53
2nd GLJHL
Won Quarters - 4-0 - (Wheatley)
Won Semi's - 4-2 - (Bleheim)
Lost League Finals - 2-4 - (Essex)
2015-16
40
24
12
3
1
170
116
52
3rd GLJHL
Won Quarters - 4-0 - (Wheatley)
Won Semi's - 4-2 - (Blenheim)
Lost League Finals, 3-4 (Essex)
2016-17
40
26
14
0
-
193
130
52
3rd Stobbs
Won Div Quarters - 4-2,(Wheatley)
Lost Div Semifinals - 0-4, (Essex)
2017-18
40
25
11
2
2
163
108
54
4th Stobbs
Won Div Quarters - 4-2,(Wheatley)
Lost Div Semifinals - 3-4, (Mooretown)
2018-19
40
28
9
0
3
155
88
59
4th Stobbs
Won Div Quarters - 4-0
Lost Div Semifinals - 0-4, (Essex)
2019-20
40
24
12
1
3
148
115
52
3rd Stobbs
Won Div Quarters - 4-3 (Petrolia)
Lost Div Semifinals - 0-4, (Mooretown)
2020-21
Season cancelled due to COVID-19 pandemic
External links