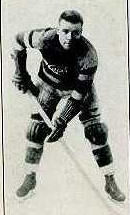 Ambrose Jason "Amby" Moran (April 3, 1895 - April 8, 1958) in Winnipeg, Manitoba) was a Canadian professional ice hockey defenceman who played 35 games in the National Hockey League for the Montreal Canadiens and Chicago Black Hawks. He scored a goal and an assist.
Moran played senior hockey in Manitoba with the Winnipeg Winnipegs in 1919-20 and the Brandon Elks in 1920-21. He turned pro in 1921-22 with the Regina Capitals of the Western Canada Hockey League, playing with them through the 1923-24 season. In 1924 he was traded to the Vancouver Maroons where he played for two seasons.
When the Maroons and their league folded in 1926, Moran was sold to the Boston Bruins. He was then traded to the Montreal Canadiens for Billy Coutu. Moran played 12 games for the Canadiens and then played in the minor pros for the balance of the 1926-27 season.
He was accquired by the Chicago Black Hawks in 1927-28 and played in 23 games. That marked the end of his NHL career.
Moran played three seasons in the American Hockey Association and then retired in 1931.
External links
[
]