Amanda Kessel
Position
Forward
Shoots
Right
Height
Weight
5 ft 6 in (1.68 m)
130 lb (59 kg)
WCHA Team
Minnesota
Born


August 28, 1991,
Pro Career
2009 – present
Amanda Kessel (born August 28, 1991) is a women's ice hockey player for the Minnesota Golden Gophers. She was named 2011 WCHA Rookie of the Year, and was also named to the 2011 WCHA All-Rookie team and 2011 All-WCHA Third team.[1] In 2013, Kessel was the winner of the Patty Kazmaier Award.
Playing career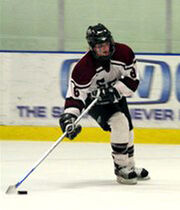 NCAA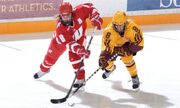 October 1: In her first game as a Golden Gopher, Amanda Kessel registered four points (two goals, two assists). The following day, Kessel scored the game-winning goal as the Gophers won by a 3-0 score. The game against Clarkson marked the first time in school history that the Gophers opened a season against a ranked opponent.[2]
December 10-11: Kessel set up a career-high four goals in a conference victory over visiting Ohio State.
February 4-5: Amanda Kessel produced three goals and seven points to lead the Golden Gophers to a two-game home-ice series sweep over St. Cloud State. On February 4, she scored two goals and set up two others for four points as the Gophers prevailed by an 8-0 mark. Her four points tied a career game high, which came against Clarkson in her first
collegiate game on Oct. 1. The following day, she was involved in all three Gophers goals, as she scored one and assisted on two. One of the assists was Ashley Stenerson's first collegiate goal. [3]
March 4: Kessel scored a hat trick in the semifinal of the 2011 WCHA Frozen Face-off as Minnesota defeated the defending NCAA champion Minnesota-Duluth Bulldogs by a 4-2 tally.[4]
Team USA
Kessel was asked to participate in the 2010 Four Nations Cup. but was injured and therefore unable to go.[5]
Awards and honors
WCHA Pre-Season Rookie of the Year[6]
WCHA Rookie of the Week (Week of October 5, 2010)[7]
WCHA Rookie of the Week (Week of December 15, 2010) [8]
WCHA Offensive Player of the Week (Week of February 9, 2011)
2011 WCHA Rookie of the Year[9]
2011 All-WCHA Third Team
2011 WCHA All-Rookie Team
Personal
Her brother Phil Kessel was drafted by the Boston Bruins and currently dominates for the Toronto Maple Leafs.
Preceded by
Hokey Langan (2009–10)
2010–11 WCHA Rookie of the Year
(2010–11)
Succeeded by
Unknown (2011–12)
References