The Almaguin Spartans are a Canadian Junior ice hockey team based in South River, Ontario, Canada. They play in the Greater Metro Junior A Hockey League. They were originally the Mattawa Voyageurs of Mattawa, Ontario.
History
[
]
The Voyageurs were announced in the spring of 2011.[1]
On September 16, 2011, the Voyageurs played their first ever game, at home, against the Bobcaygeon Bucks. The Voyageurs would end up losing the game in a shootout 5-4, but picked up a point for their regulation tie. On the 18th, at home again, the Voyageurs picked up their first ever win 5-4 in overtime over the Algoma Avalanche.
In July 2014, the team was approved for relocation to South River, Ontario where they became the Almaguin Spartans.[2]
In March 2015 Myles Pepin was promoted from assistant coach and was named the team's new head coach.
The team would win their first nine games of the 2018 playoffs and then defeated the St. George Ravens in six games to claim the Russell Cup championship.
Season-by-season records
[
]
Season
GP
W
L
T
OTL
GF
GA
Pts
Regular Season Finish
Playoffs
Mattawa Voyageurs
2011–12
42
19
21
—
2
170
206
40
9th GMHL
Lost Bye Round
2012–13
42
10
30
1
1
169
289
22
14th GMHL
Lost Division Quarter-finals
2013–14
42
16
24
—
2
185
279
34
14th GMHL
Lost Division Quarter-finals
Almaguin Spartans
2014–15
42
16
24
—
2
196
211
26
4th North Div.
Lost Elimination Qualifier
2015–16
42
34
7
-
1
267
107
69
3rd North Div.
Lost Championship play-in game
2016–17
42
23
15
-
3
164
154
49
6th North Div.
Lost Division Quarterfinals
2017–18
42
31
11
-
0
217
145
62
1st North Div.
Russell Cup Champions
2018–19
42
21
19
-
2
183
187
44
5th North Div.
Lost Division Quarterfinals
2019–20
42
18
21
-
3
191
218
39
7th North Div.
Lost Division Quarterfinals
2020-21
Unable to get in any games due to local restrictions related to COVID-19 pandemic
Playoffs
[
]
References
[
]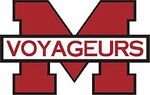 External links
[
]