Allyson Fox (born March 30, 1975) plays defence for the Brampton Thunder of the CWHL. She appeared in the 2010 Clarkson Cup tournament.
Playing career
CIS
In her time with the York Lions women's ice hockey program, Fox was an OUA First Team All-Star selection in 1996-97 and a Second Team All-Star selection in 1997-98. On February 24, 1997, Fox scored the game winning goal in the OWIAA (now OUA) semifinal against the Wilfrid Laurier Golden Hawks.[1] During the 97-98 season, she was an assistant captain. In the same season, Fox tied for 15th overall in scoring with 4 goals and 6 assists.[2]
CWHL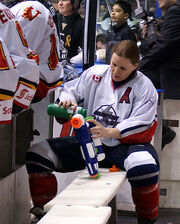 Fox was part of an initiative to start the CWHL. The league was spearheaded by players such as Lisa-Marie Breton, Kathleen Kauth, Kim McCullough, along with national team members Sami Jo Small and Jennifer Botterill. The players worked with a group of volunteer business people to form the CWHL by following the example of the National Lacrosse League. The league would be responsible for all travel, ice rental and uniform costs, plus some equipment.[3] In 2006, she participated for Team Ontario at the Esso Women's Nationals.[4] During the 2008-09 CWHL season, Fox was a member of the CWHL Board of Directors as Secretary and Player Director. [5] When the CWHL contracted in the summer of 2010, Fox was not protected by the Thunder and entered the 2010 CWHL Draft. The Thunder re-acquired Fox with the thirty-eighth overall selection. [6]
Awards and honors
OUA All-Star selection, Second Team (1995-96)
OUA First Team All-Star 1996-97 [7]
OUA, Second Team All-Star 1997-98
References