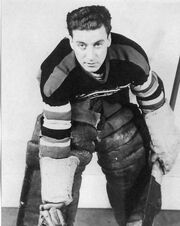 Alfie Moore (December 1, 1904 in Toronto, Ontario – 1984) was a professional ice hockey player who played 21 games in the National Hockey League with the Chicago Black Hawks and New York Americans.
Moore started out in junior with the Toronto Canoe Club and Toronto Aura Lee of the Ontario Hockey Association (OHA) from 1920-25. He then played senior with the OHA's London Ravens and the London 12th Battery for one season each.
He then played in the minor pros for ten seasons until playing 18 games for the New York Americans in 1936-37.
His chief claim to fame was when he replaced Mike Karakas in the Chicago Black Hawks net in Game 1 of the 1938 Stanley Cup Finals when replacement goaltender Paul Goodman did not arrive in Toronto on time. Alfie held the Toronto Maple Leafs to one goal as Chicago won 3–1. He was declared ineligible to play in Game 2 by NHL president Frank Calder after Goodman arrived in Toronto. As the result of the Black Hawks Stanley Cup win, he was given a gold watch and $300 by Hawks management.
Moore played 4 more games for the New York Americans in the 1938-39 season including both playoff games.
He spent the rest of his career in the minors, retiring in 1942.
Gallery
[
]
External Links
[
]