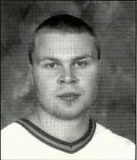 Alexandre Volchkov (born September 25, 1977 in Moscow, Russia) is a Russian professional ice hockey player.
Selected in the first round, fourth overall, in the 1996 NHL Entry Draft by the Washington Capitals, Volchkov was a talented right-winger who put up impressive offensive numbers while playing junior hockey for the Barrie Colts. Washington management were well aware of Volchkov's attitude issues, but decided that his talent overshadowed any potential problems. Offensively gifted, the enigmatic Volchkov never reached his potential as a pro due to his poor attitude. In one incident while playing with the Capitals' minor league affiliate Portland Pirates, he walked out on the team during a playoff game.
Having had enough of his poor attitude and chronic underachieving, the Capitals traded Volchkov to the Edmonton Oilers on February 4, 2000, for a fourth round draft pick, but he never played with the parent club. Former Oilers' GM Kevin Lowe, then the team's coach, recalled his first training camp meeting with Volchkov in which the player insisted on being referred to as "The Volch-inator". After just twenty-five games with the Oilers' minor league affiliate Hamilton Bulldogs, team management soured on his poor attitude, and he returned to play in Russia. Playing in a grand total of 3 NHL games and registering zero points, Alexandre Volchkov is widely regarded as one of the biggest draft busts in NHL history.
External links