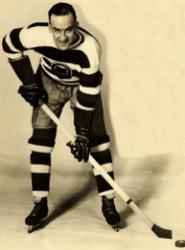 Alexander "Boots" Smith (April 2, 1902 – November 29, 1963) was a Canadian professional ice hockey defenceman who played 11 seasons in the National Hockey League for the Ottawa Senators, Detroit Falcons, Boston Bruins and New York Americans. Alex Smith name was put on the Stanley Cup in 1927 with Ottawa. He was born in Liverpool, England but lived in Ottawa, Ontario.
Smith played senior hockey in the Ottawa City Senior League for the Ottawa Gunners (1922–23) and the Ottawa Rideaus (1924–25). The Senators signed him as a free agent in 1925. In 1926-27 he won the Stanley Cup.
When the Senators suspended operations for a season in 1930-31, Smith was picked up by the Detroit Falcons. He returned to the Senators in 1931-32 but was traded to the Boston Bruins in 1932-33. In 1934 he was traded to the New York Americans. Smith retired in 1935.
Smith played in a total of 443 NHL games, scoring 41 goals and 50 assists.
After retirement, Smith turned to coaching. He coached the Ottawa RCAF Flyers in 1935-36, the New York Rovers in 1939-40 and 1940–41, the Ottawa Commandos in 1942-43 (winning the Allan Cup), and the Ottawa Senators in 1945-46.
External Links