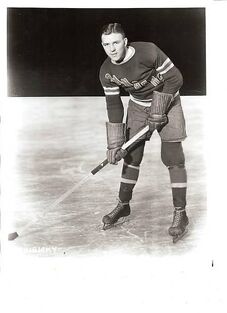 Alex Shibicky (b. May 19, 1914 in Winnipeg, Manitoba, Canada - July 9, 2005 in South Surrey, British Columbia, Canada) was a forward who played for the New York Rangers of the National Hockey League from 1935 to 1946.
After playing three seasons (1931-34) in the Manitoba Junior Hockey League with the Winnipeg Columbus Club and Selkirk, Shibicky signed with the New York Rangers. He played one season with the Brooklyn Crescents and one with the Philadelphia Ramblers and then made it to the Rangers in 1936-37. Shibicky played six seasons for them, winning the Stanley Cup in 1939-40.
Shibicky joined the Canadian Army in 1942 for World War II. He played for the Allan Cup-winning Ottawa Commandos in 1942-43.
After the war Shibicky rejoined the Rangers but was demoted to the Providence Reds halfway through the 1945-46 season. After one season with the New Haven Ramblers he retired in 1947.
He is best known for being the first player to use a slapshot, which he did in 1937. He said he learned it in practice from teammate Fred "Bun" Cook during the 1935–36 season.
Shibicky played in 324 NHL games, scoring 110 goals and 91 assists.
After retiring, he coached the New Westminster Royals in 1948-49 and 1953-54 and the Flin Flon Bombers in 1952-53.
Awards & Achievements
Gallery
External Links