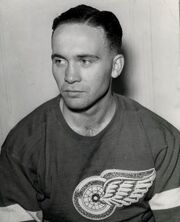 Alexander Everett Motter (June 20, 1913 in Melville, Saskatchewan – October 18, 1996) was a professional ice hockey player who played 265 games in the National Hockey League. He played with the Detroit Red Wings and Boston Bruins. He won the Stanley Cup in 1943 with the Detroit Red Wings.
He played junior hockey for the Regina Pats from 1931 to 1933, getting to the 1932-33 Memorial Cup Final which the Pats lost. After playing with the senior Prince Albert Mintos in 1933-34, he joined the Boston Bruins in 1934.
Motter spent two seasons going between the Bruins and their farm team the Boston Cubs. He then spent a season and a half before being traded to the Detroit Red Wings in 1937. Red Wings General Manager Jack Adams switched Motter to defenceman which turned out to be a great move. Motter played six solid seasons for Detroit, winning the Stanley Cup in 1943.
He then joined the American miltary for World War II. After the war he played three seasons in the American Hockey League and retired in 1948.
In the NHL he played in 255 games and scored 39 goals and 64 assists.
Community content is available under
CC-BY-SA
unless otherwise noted.