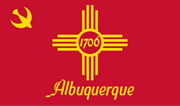 Albuquerque is a city of about 521,000 people in northern New Mexico, United States. The metro area has about 850,000 people.
With the opening of the Santa Ana Star Center in suburban Rio Rancho, New Mexico, most of the hockey activity moved there, as the only major tenant in the Tingley Colisuem is the Albuquerque Thunderbirds of the NBA Development League.
Teams
(WPHL, 1996-2001) join CHL
(CHL, 2001-2005) suspend operations,
Arenas
External Links
Community content is available under
CC-BY-SA
unless otherwise noted.