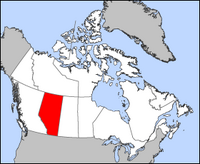 Alberta is one of Canada's prairie provinces. It became a province on September 1, 1905.
The Calgary Flames and Edmonton Oilers both play their home games in Alberta.
Notable players from Alberta.

This entry is a stub. You can help the Ice Hockey Wiki by expanding it. Click the "edit" button to add information.