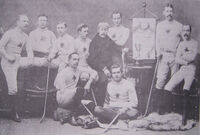 Albert Morel (1873-?) was a Canadian ice hockey player for the Ottawa Hockey Club from 1890 to 1894. He was a member of the Ontario championship squads of 1890 to 1893. He played goaltender for the club.
Morel is first recorded as the goaltender for Ottawa College in 1890, as a 17-year-old. He joined the Ottawas after first playing against the Ottawas for the College. He joined the Ottawas and played for them for the duration of his education at the college until 1894.
Coleman, Charles L (1966). The Trail of the Stanley Cup, Vol. 1, 1893–1926 inc.. Montreal, Quebec: National Hockey League.

 

Kitchen, Paul (2008). Win, Tie or Wrangle. Manotick, Ontario: Penumbra Press. ISBN 9781897323465.

 
Community content is available under
CC-BY-SA
unless otherwise noted.