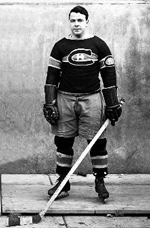 J. Albert "Battleship" Leduc (November 22, 1902 in Valleyfield, Quebec – July 31, 1990 in Montreal, Quebec) was a professional Canadian ice hockey defenceman.
He played senior hockey with the Montreal Nationale of the Eastern Canada Hockey League in 1924-25 before turning pro with the Montreal Canadiens the following season.
Albert played with the Canadiens thorugh 1932-33. He was a popular and solid, hard-hitting defenceman. In 1933-34, he played for the Ottawa Senators and the New York Rangers. Leduc returned to the Canadiens in 1934-35 for a few games. He played for the Canadian-American Hockey League's Quebec Castors in 1934-35 and Providence Reds in 1935-36 and 1936-37. Leduc also coached the Reds in those two seasons.
After retiring in 1937 he coached the senior Verdun Maple Leafs in 1937-38.
Leduc palyed in 383 NHL games, scoring 57 goals and 35 assists with 614 penalty minutes. In 28 playoff games he had 5 goals, 6 assists and 32 penalty minutes. While with the Canadiens, he won two Stanley Cups in 1930 and 1931.