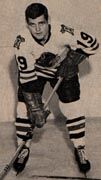 Alain Luc Caron (April 27, 1938 in Dolbeau, Quebec, Canada - December 19, 1986) was a Canadian professional ice hockey player who played in various leagues from 1956 to 1976. Born in Dolbeau, Quebec, he played in the NHL for 60 games while playing for the Oakland Seals and Montreal Canadiens.
He was noted as a goal scorer in the minor pros. In 1961-62 he scored 76 goals for the Amherst Ramblers of the Nova Scotia Senior Hockey League. He surpassed that with 77 goals for the St. Louis Braves of the Central Hockey League in 1963-64. That stood as the pro record for goals scored in a season for many years.
Despite his goal-scoring ability, Caron was never able to make it as a NHL regular, possibly because of his slow skating. He did manage to put in three seasons for the Quebec Nordiques and the Baltimore Blades of the World Hockey Association, scoring a total of 82 goals and 50 assists in 195 games played.
Caron retired in 1976 after suffering a heart attack. A second attack killed him in 1986.
External Links