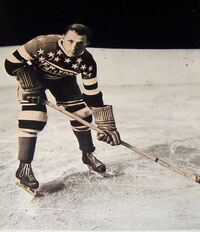 Al Murray (November 10, 1908 – 1982) was a professional ice hockey defenceman who played 277 games in the National Hockey League. He played all his seven seasons (1933–1934 to 1939–1940) with the New York Americans. He was born in Stratford, Ontario.
He played junior hockey with the Stratford Midgets in 1926-27 and then with the senior South Porcupine team in the 1927-28 Northern Ontario Senior Playoffs.
The Buffalo Bisons signed him as a free agent in 1928 and he played five seasons for them.
In 1933 he was traded to the New York Americans. After a short stay with the Syracuse Stars he was called up to the Americans where he stayed for seven seasons. Murray was a defensive defenceman who only scored 5 goals and 9 assists in his 271 game NHL career.
Murray missed much of the 1938-39 season due to a shoulder injury. He played most of the 1939-40 season but retired then.
He had two coaching jobs - with the San Francisco Shamrocks in 1946-47 and with the Springfield Indians in 1965-66.
External Links