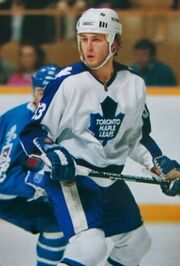 Albert Anthony "Al" Iafrate (b. March 21st 1966 in Dearborn, Michigan, United-States) is a former professional defenceman who played in the National Hockey League for the Toronto Maple Leafs, the Washington Capitals, the Boston Bruins and the San Jose Sharks from 1984 to 1999.
Drafted to the NHL by the Leafs 4th overall in the 1984 NHL Entry Draft, Iafrate was immediately graduated to the NHL in the 1984-85 NHL season, like many other Leafs prospect through the 1980's, as the team was in its worst slump ever. The graduation was probably a bit too soon for the young Iafrate (like it was for many others), and although he was a skilled player, he often was overmatched by bigger and more experienced forwards.
His career only really took off in 1987 with a solid playoffs showing. Turning down an invitation by the American National Team to play in the 1987 Canada Cup to improve his defensive skills with the Leafs, Iafrate showed he made the right decision by being selected to the 1988 and 1990 NHL All-Stars Game. However, a serious knee injury in 1990 seriously set him back.
Iafrate was dealt to the Capitals in 1991 for Peter Zezel and Bob Rouse; there, he regained his confidence and had a career-season in 1992-93, scoring 25 times and collecting 66 points, while taking part in the 1993 NHL All-Stars Game, where he won the hardest shooter competition with a record shot of 105.2 mph.
Iafrate was traded to Boston in 1994 for Joe Juneau. He would miss the two next seasons due to a long recovery following a knee surgery. He resumed play in 1996 with the Sharks; he would play bits of two seasons there, still annoyed by injuries, before retiring in 1998 after having worn the U.S. jersey at the 1998 World Championship.
External Links
[
]