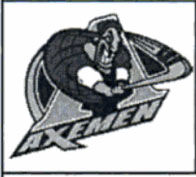 The Ajax Axemen were a Tier II Junior "A" team from Ajax, Ontario, Canada. They were a part of the Ontario Provincial Junior A Hockey League.
History
The team originated as a member of the Central Junior C Hockey League in 1986. In 1991 they made the jump to the Central Junior "B" league, despite limited success in the Central Junior "C" league, and stayed with the league in 1993 when it became the OPJHL.
After the 2004-05 season, one of the worst seasons in OPJHL history, the Axemen changed their name to the Ajax Attack.
Season-by-Season Results
| | | | | | | | | | | |
| --- | --- | --- | --- | --- | --- | --- | --- | --- | --- | --- |
| Season | GP | W | L | T | OTL | GF | GA | P | Results | Playoffs |
| 1987-88 | 32 | 12 | 16 | 4 | - | 148 | 182 | 28 | 6th COJCHL | |
| 1988-89 | 40 | 20 | 15 | 5 | - | 188 | 163 | 45 | 7th COJCHL | |
| 1989-90 | 36 | 16 | 17 | 3 | - | 156 | 170 | 35 | 4th COJCHL | |
| 1990-91 | 36 | 11 | 23 | 2 | - | 135 | 188 | 24 | 6th COJCHL | |
| 1991-92 | 42 | 12 | 28 | 2 | - | 181 | 243 | 26 | 13th CJBHL | |
| 1992-93 | 48 | 9 | 33 | 6 | - | 203 | 275 | 26 | 13th CJBHL | |
| 1993-94 | 40 | 17 | 17 | 6 | - | 183 | 199 | 40 | 10th OPJHL | |
| 1994-95 | 48 | 4 | 43 | 1 | - | 131 | 343 | 12 | 16th OPJHL | |
| 1995-96 | 49 | 12 | 32 | 5 | - | 172 | 263 | 30 | 19th OPJHL | |
| 1996-97 | 51 | 21 | 28 | 2 | - | 212 | 258 | 45 | 13th OPJHL | |
| 1997-98 | 50 | 13 | 35 | 2 | 0 | 190 | 282 | 28 | 19th OPJHL | |
| 1998-99 | 51 | 17 | 27 | 6 | 1 | 153 | 233 | 41 | 26th OPJHL | |
| 1999-00 | 49 | 16 | 26 | 6 | 1 | 159 | 216 | 39 | 28th OPJHL | |
| 2000-01 | 49 | 23 | 23 | 3 | 0 | 206 | 202 | 49 | 23rd OPJHL | |
| 2001-02 | 49 | 7 | 30 | 6 | 6 | 163 | 240 | 26 | 32nd OPJHL | |
| 2002-03 | 49 | 12 | 31 | 3 | 3 | 142 | 202 | 30 | 27th OPJHL | |
| 2003-04 | 49 | 13 | 32 | 2 | 2 | 154 | 250 | 30 | 32nd OPJHL | |
| 2004-05 | 49 | 2 | 44 | 1 | 2 | 111 | 285 | 7 | 35th OPJHL | |
Notable Alumni