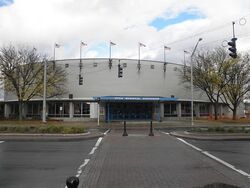 The Adirondack Bank Center at the Utica Memorial Auditorium is a 4,000-seat multi-purpose arena in Utica, New York, with a capacity of 5,700 for concerts.
It was built in 1959 on the site of the old Erie Canal. When the Aud was completed, it was one of just three arenas built without obstructed views. The Aud was the model for the current Madison Square Garden arena in New York City, New York, which was built in 1968. It hosted the 1962 NCAA Frozen Four. Scenes from the 1977 movie "Slap Shot" were filmed there.
It is home to the Utica Comets of the American Hockey League, the Utica College Pioneers, Mohawk Valley Community College Hawks, and several high school teams. It has been the former home for the Mohawk Valley Stars/Comets of the Atlantic Coast Hockey League, the Utica Devils of the American Hockey League, the Utica Bulldogs, Utica Blizzard, and Mohawk Valley Prowlers of the United Hockey League, and the Mohawk Valley IceCats of the North Eastern Hockey League. Utica hopes to someday regain an affiliated hockey team, as evidenced by the average attendance for Utica College, which is the highest in all of Division III of United States college hockey.
The arena was renamed in 2017 as part of a $2,000,000 ten year naming rights deal.
External links