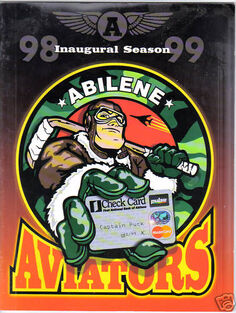 The Abilene Aviators were a minor pro team in Abilene, Texas. They played in the Western Professional Hockey League (WPHL) in 1998-99 and part of the 1999-2000 season. They folded in December, 1999.
They were coached by Jeff Triano in 1998-99 and Marty Dallman in 1999-2000.
They finished in first place in the league's western division in 1998-99 with a record of 43-23-3-89 and lost in the second round of the playoffs. Their record in their unfinished 1999-2000 season was 6-16-4-16.
Avaitors who played in the NHL