Line 1:
Line 1:
 
+

[[File:Abbiecox.jpg|thumb|200px]]

 

'''Albert Edward Cox''' (July 19, 1902 – May 10, 1985) was a [[Canada|Canadian]] professional [[ice hockey]] [[goaltender]] who played 5 games in the [[National Hockey League]] for the [[Montreal Maroons]], [[Montreal Canadiens]], [[New York Americans]], and the [[Detroit Red Wings]]. He was born in [[London, Ontario|London]], [[Ontario]].

 

'''Albert Edward Cox''' (July 19, 1902 – May 10, 1985) was a [[Canada|Canadian]] professional [[ice hockey]] [[goaltender]] who played 5 games in the [[National Hockey League]] for the [[Montreal Maroons]], [[Montreal Canadiens]], [[New York Americans]], and the [[Detroit Red Wings]]. He was born in [[London, Ontario|London]], [[Ontario]].

 
 
Line 13:
Line 14:
 

[[Category:Born in 1902]]

 

[[Category:Born in 1902]]

 

[[Category:Dead in 1985]]

 

[[Category:Dead in 1985]]

−

[[Category:Canadian hockey players]]

+

[[Category:Canadian hockey players]]

−

[[Category:Montreal Maroons player]]

+

[[Category:Montreal Maroons ]]

−

[[Category:Ottawa Munitions player]]

+

[[Category:Ottawa Munitions ]]

−

[[Category:New Haven Bears player]]

+

[[Category:New Haven Bears ]]

−

[[Category:Boston Maples player]]

+

[[Category:Boston Maples ]]

−

[[Category:New York Knickerbockers player]]

+

[[Category:New York Knickerbockers ]]

−

[[Category:Springfield Indians player]]

+

[[Category:Springfield Indians ]]

 

[[Category:Windsor Bulldogs (1929–1936) players]]

 

[[Category:Windsor Bulldogs (1929–1936) players]]

 

[[Category:Detroit Olympics (IHL) players]]

 

[[Category:Detroit Olympics (IHL) players]]

−

[[Category:Pittsburgh Yellowjackets player]]

+

[[Category:Pittsburgh Yellowjackets ]]

−

[[Category:New York Americans player]]

+

[[Category:New York Americans ]]

 

[[Category:Detroit Red Wings players]]

 

[[Category:Detroit Red Wings players]]

 

[[Category:Cleveland Falcons players]]

 

[[Category:Cleveland Falcons players]]

−

[[Category:Quebec Castors player]]

+

[[Category:Quebec Castors ]]

 

[[Category:Montreal Canadiens players]]

 

[[Category:Montreal Canadiens players]]

−

[[Category:Philadelphia Ramblers player]]

+

[[Category:Philadelphia Ramblers ]]

−

[[Category:Kansas City Greyhounds player]]

+

[[Category:Kansas City Greyhounds ]]

 

[[Category:Retired in 1937]]

 

[[Category:Retired in 1937]]
---
Revision as of 14:40, 30 September 2011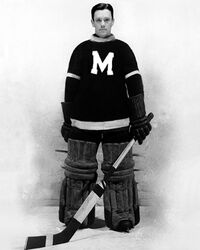 Albert Edward Cox (July 19, 1902 – May 10, 1985) was a Canadian professional ice hockey goaltender who played 5 games in the National Hockey League for the Montreal Maroons, Montreal Canadiens, New York Americans, and the Detroit Red Wings. He was born in London, Ontario.
He played amateur hockey in Ottawa and Iroquois Falls fromm 1921 to 1923 and then played for three seasons in the United States Amateur Hockey Association.
From 1926-27 through 1936-37 Cox played steadily in the minor pros and earned callups to the NHL as a fill-in for an injured goaltender. He played a total of five games and had a goals-aginst-average of 2.50.
Cox retired in 1937.
External links