Honoured Member of the Manitoba Hockey Hall of Fame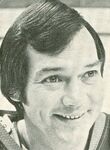 Alvin Brian McDonald
Died: September 5, 2018
Hometown: Winnipeg, Manitoba
Son: Dave McDonald
Position: Left Wing
Playing Career
After a standout stay in the Manitoba Junior Hockey League and the Ontario Hockey League, McDonald joined the Montreal Canadiens in 1958 for two playoffs games. The next season, he scored 13 goals as a rookie while on a line with Ralph Backstrom and Don Marshall. He would win three times the Stanley Cup with Montreal during his stay before the Habs' management, unsatisfied of the fact he didn't play as well as the player he was replacing, Bert Olmstead. The Habs dealt him to the Chicago Blackhawks with Reg Fleming, Bob Courcy and Cec Hoekstra for Terry Gray, Glen Skov, the rights to Danny Lewicki, Lorne Ferguson and Bob Bailey on June 7, 1960.
In Chicago, McDonald did much better. As an original member of the Scooter Line with Ken Wharram and Stan Mikita, he helped the team earn a first Stanley Cup in 23 years in 1961, including scoring the Cup winning goal. Following his successful stay with Chicago, McDonald spent one season with the Boston Bruins then parts of two others with the Detroit Red Wings.
In June 1967, McDonald was claimed by the Pittsburgh Penguins in the 1967 NHL Expansion Draft. Completing a line with Andy Bathgate and Val Fonteyne, McDonald captained the young team and scored 22 goals. He would however only last one season there, being dealt in the offseason to the St. Louis Blues for Lou Angotti. He helped the equally young team reach the Stanley Cup finals twice and appeared in the 1969 and 1970 NHL All-Star Game.
After a brief stint with the Red Wings, McDonald ended his career in the WHA when the Winnipeg Jets selected him in the 1972 WHA General Player Draft. He became the first ever captain of the Jets and scored the franchise's first ever goal.
He passed away September 6, 2018 at the age of 82.[1]
Career Statistics
Playing
Coaching
 
 
Regular Season
 
Playoffs
Season
Team
League
Type
GP
W
L
T
Pts
Finish
GP
W
L
Results
1975-76
Portage Terriers
MJHL
Head
52
25
27
0
50
3rd North
5
1
4
Lost Div Semi
1976-77
Portage Terriers
MJHL
Head
27
9
18
0
18
-
-
Awards & Achievements
Gallery
External Links
References