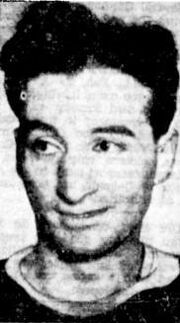 Albert George "Ab" DeMarco (May 10, 1916 - May 25, 1989) was a Canadian ice hockey forward.
Born in North Bay, Ontario, DeMarco started his National Hockey League career with the Chicago Black Hawks. He would also play with the New York Rangers, Boston Bruins and Toronto Maple Leafs. His NHL career lasted from 1938 to 1947.
He scored 72 goals and 93 assists in 209 NHL games played.
DeMarco spent many years in the American Hockey League, winning the John B. Sollenberger Trophy as the leading scorer in 1950-51.
He ended his playing career with the hometown senior North Bay Trappers, retiring in 1959.
DeMarco's son Ab Jr. also played in the NHL.
External Links