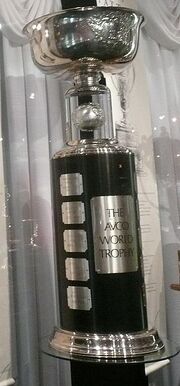 The AVCO World Trophy (also known as the AVCO Cup) is the former championship trophy of the defunct World Hockey Association. The Trophy wore the name of AVCO, a consortium specialized in the buying of small airplanes; it was the first time in the history of North American sports that a championship trophy wore the name of a sponsor. AVCO offered 500,000 dollars to the Cup winner. Awarded only seven times, the cup has had only four winners: the New England Whalers, the Houston Aeros, the Winnipeg Jets and the Quebec Nordiques. Winnipeg won it thrice; Houston twice.
The Cup still exists today, in at least three versions: one is displayed at the Hockey Hall of Fame, one is in Nova Scotia and the last one in Winnipeg, home of the Jets, the Cup's last champions.
Season  Winner              Runner-up
1972-73 New England Whalers Winnipeg Jets
1973-74 Houston Aeros       Chicago Cougars
1974-75 Houston Aeros       Quebec Nordiques
1975-76 Winnipeg Jets       Houston Aeros
1976-77 Quebec Nordiques    Winnipeg Jets
1977-78 Winnipeg Jets       New England Whalers
1978-79 Winnipeg Jets       Edmonton Oilers

Community content is available under
CC-BY-SA
unless otherwise noted.