The ANAVET Cup is a yearly playoff series between the Turnbull Cup Champions of Manitoba and the Canalta Cup Champions from Saskatchewan. In it's beginning, starting in 1971, the Anavet Cup winner advanced to the Abbott Cup for the Western Canada Junior 'A' Championship. This format ended after the 1989 playoffs. After that, the Anavet Cup Champion advanced directly to the National Championship tournament, now known as the RBC Cup. The Cup was retired after the 2012 playoffs, with the introduction of the Western Canada Cup. However, after one cycle of each branch hosting one tournament it was decided to revert back to the previous format and the Anavet Cup was reinstated for the 2017-18 season.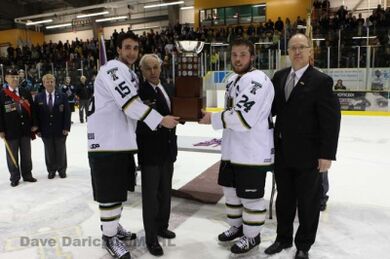 During the Championship's original 42 year history, Saskatchewan dominated winning 29 times.
It was not that way in the beginning, with
Manitoba winning four of the first 5.
Then the Terry Simpson coached Prince Albert Raiders captured seven consecutive Cups. Before moving up to major junior the Raiders appeared 8 times in 12 years. Only 3 other teams have won consecutive Cups the Selkirk Steelers, Weyburn Red Wings, and Humboldt Broncos. The OCN Blizzard streak of 5 straight appearances is the 2nd longest, however they captured only 1 Cup.
History
The 74 Selkirk Steelers were actually the first winner of the ANAVET Cup. The idea for the trophy was born in the clubroom of the Selkirk branch of the Army Navy and Airforce Veterans.
"The Steelers had just defeated Prince Albert in the Manitoba-Saskatchewan final," says Mike Terry, Selkirk's ANAVET president. "Back in those days there was no trophy awarded to the winning team. We had the idea to donate a trophy. Cost us 75 dollars….that was pretty expensive back in those days. But we felt it was a good investment for hockey."
"We actually presented the Steelers with the ANAVET Cup the next season," Terry says with a laugh.
It was decided that the original ANAVET Cup would be retired after the 2007 Championship. And it was only fitting that the Steelers would win back the original ANAVET Cup, bringing it back home for good. These days the ANAVET Cup has only two names on its base, the Steelers of 74 and 07. All the other championship names were placed on the new ANAVET Cup.
Championships
Note: click on Year for game by game results