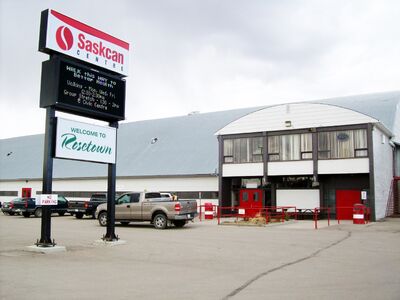 The AGT Foods Centre (formerly Saskcan Centre until 2017 and previously the Rosetown Sports Centre until 2010) is an indoor arena located in Rosetown, Saskatchewan.  The facility can seat 3,000 spectators
The facility is home to the Rosetown Red Wings who compete at the Senior AAA level and are member of the Chinook Hockey League for the 2016-17 season. 
The facility is the host rink for the 2018 Allan Cup as the event has been awarded to Saskatchewan and a team must be registered at the Senior AAA level the prior season to be eligible and the Red Wings are the only team that is registered at that level in the province for the 2016-17 season.
The arena was renamed in 2010 under a sponsorship agreement with Saskcan Foods.  That company was renamed AGT Foods in 2017 and the arena was renamed.