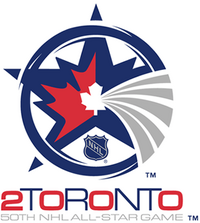 The 50th National Hockey League All-Star Game was part of the 1999–2000 NHL season, and took place in Toronto's Air Canada Centre on February 6, 2000.
The all-star week festivities saw the Canadian Hockey League Top Prospects Game played on February 2, and an exhibition game between the Canadian and American women's national teams on February 3. The Heroes of Hockey game and the Skills Competition were held on February 5. It is to note that the opening face-off for the Heroes of Hockey game were Ted Lindsay and Fleming Mackell, two players who played in the 1st National Hockey League All-Star Game.
The week also was a good sendoff for Wayne Gretzky, who had retired the previous season. His #99 was raised to the rafters, despite him never playing for the hometown Toronto Maple Leafs, as a show of his number's league-wide retirement. Gretzky also made it clear that he would not partake in any oldtimer or Heroes of Hockey game unless it was held in Edmonton, a statement that was realized with the Heritage Classic three years later.
Super Skills Competition
In the Skills Competition, the World All-Stars would win their third-straight skills competition. In the individual events, Boston Bruins' Ray Bourque and Florida Panthers' Viktor Kozlov shared the Accuracy Shot event, which was Bourque's seventh victory in the event. In addition, St. Louis Blues' Al MacInnis won his fourth straight Hardest Shot event, which was also his sixth all-time victory in the event, and Mighty Ducks of Anaheim' Paul Kariya would win his second-straight Puck Control Relay event.
Individual event winners
The Game
Florida Panthers' Pavel Bure and his brother Calgary Flames' Valeri Bure combined for six points (Pavel 3–1–4, Valeri 0–2–2) to lead the World All-Stars to their first All-Star Game victory over the North American All-Stars. Valeri would assist on two of Pavel's three goals to become the first brother combination to set up a goal, since the 1956 All-Star Game when Maurice and Henri Richard hooked up for an All-Star goal. Pavel Bure would become the first Russian-born player to win All-Star M.V.P. honors.
Boxscore
North America
World
Final score
4
9
Head coach
Pat Quinn (Toronto Maple Leafs)
Scotty Bowman (Detroit Red Wings)
Assistant coach
Roger Neilson (Philadelphia Flyers)
Joel Quenneville (St. Louis Blues)
Lineup
Starting lineup:

Commissioner's selection:

Reserves:

Starting lineup:

Reserves:

Scoring summary

Sakic (Whitney, Recchi) 13:56 first
Roenick (Modano) 19:30 first
Amonte (Modano, Bourque) 12:14 second
Whitney (Desjardins, Messier) 17:08 second

Demitra (Yushkevich, Elias) 3:12 first
Jagr (Rucinsky) 10:50 first
Yushkevich (Kozlov, P. Bure) 14:35 first
P. Bure (V. Bure) 0:33 second
P. Bure 2 (V. Bure, Kozlov) 8:38 second (GWG)
Demitra (Hejduk, Elias) 8:52 third
P. Bure 3 (Lidstrom, Kozlov) 9:31 third
Satan (Czerkawski, Bonk) 10:51 third
Bonk (Jagr, Rucinsky) 19:28 third

Penalties

none

Ozolinsh, hooking 5:51 third

Shots on goal
13–11–8–32
20–13–15–48
Win/Loss
L - Martin Brodeur
W - Tommy Salo
Notes
Note 1: Dominik Hasek was voted as a starter, but was not able to play due to injury. Roman Turek was selected to replace Hasek as the starting goaltender.