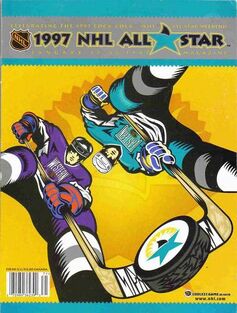 The 47th National Hockey League All-Star Game took place on January 18, 1997 at the San Jose Arena. The final score was Eastern Conference 11, Western Conference 7.
Super Skills Competition
The Eastern Conference won the skills competition for the first time since 1992. St. Louis Blues' Al MacInnis won the Hardest Shot event for the third time in his career by slapping the puck at 98.9 mph. Boston Bruins' defenceman Ray Bourque won the Shooting Accuracy event for the fourth time, hitting four targets in seven shots. Florida Panthers' goaltender John Vanbiesbrouck stopped all 10 shots by Mats Sundin and Derian Hatcher in Rapid-Fire Relay to outduel Colorado Avalanche netminder Patrick Roy who made nine saves. In the Power-Play Relay, Vanbiesbrouck allowed only two of six shots to elude him that were taken by Mighty Ducks of Anaheims' Teemu Selanne and Paul Kariya to claim the Goaltenders Competition.
Individual Event winners
The Game
Montreal Canadiens' rightwinger Mark Recchi had a hat-trick to lead the Eastern Conference to a 11–7 victory and was named All-Star M.V.P. Mark Recchi would become the fourth Montreal Canadien to receive the award. A record 10 goals was scored in the second period, including two from hometown favorite San Jose Sharks' rightwinger Owen Nolan in a record eight seconds. Nolan would complete his hat-trick in the third period as he closed in on a breakaway towards Buffalo Sabres' goaltender Dominik Hasek. Nolan pointed in Hasek's direction and then fired the puck high to the glove side to end the West's frustration from not scoring all in the period despite peppering Hasek with 21 shots.
Boxscore
Western Conference
Eastern Conference
Final Score
7
11
Head Coach
Ken Hitchcock (Dallas Stars)
Doug MacLean (Florida Panthers)
Honorary Captain
Doug Wilson
Andy Bathgate
Lineup
Starting Lineup:

Commissioner's Selection:

Reserves:

Starting Lineup:

Commissioner's Selection:

Reserves:

Scoring Summary

Bure (Sundin, Amonte) 17:36 1st
Kariya (Bure, Ozolinsh) 18:36 1st
Bure (2) (Selanne, Fetisov) 4:40 2nd
Shanahan (Hull, Ozolinsh) 16:38 2nd (PPG)
Nolan (Fleury, Ozolinsh) 18:54 2nd
Nolan (2) (Amonte) 19:02 2nd
Nolan (3) (unassisted) 17:57 3rd

LeClair (Bondra, Stevens) 8:52 1st
Lemieux (Gretzky) 9:49 1st
Recchi (Messier, Alfredsson) 15:32 1st
Hawerchuk (Lindros, Coffey) 16:19 1st
Recchi (2) (Svehla, Messier) 1:56 2nd
Sanderson (Lindros) 3:21 2nd
Lemieux (2) (Svehla, Ciccarelli) 6:09 2nd
Messier (K. Hatcher, Alfredsson) 8:45 2nd (GWG)
Recchi (3) (Oates, Lemieux) 10:57 2nd
Hawerchuk (2) (LeClair, Stevens) 17:28 2nd
LeClair (2) (Bondra, Oates) 8:50 3rd

Penalties

none

Coffey, hooking 15:37 2nd
Hatcher, hooking 14:56 3rd

Shots on Goal
12–13–21–46
15–15–11–41
Win/Loss
L - Andy Moog
W - Martin Brodeur
Notes