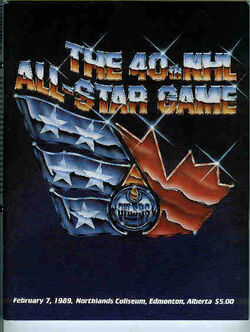 The 40th National Hockey League All-Star Game was held in the Northlands Coliseum in Edmonton, Alberta, home to the Edmonton Oilers, on February 7, 1989.
The return of Wayne Gretzky
The previous year saw the then-unthinkable trade of Wayne Gretzky to the Los Angeles Kings, a move that shocked many Canadians, but allowed the NHL to expand into new American markets. As Gretzky was a no-brainer to be a starter due to the fan-balloting process, the game was highly touted as Gretzky's return to Edmonton (despite the Kings having faced the Oilers in Edmonton earlier in the season). To this extent, even Campbell conference coach Glen Sather reserved Gretzky's old stall in the Oilers' dressing room, and he played on the line with then-current linemate Luc Robitaille and former linemate Jari Kurri. Gretzky was warmly welcomed in Edmonton, and for his part, scored a goal and two assists and earning the ceremonial car as the game's MVP (which he promptly gave to friend and former linemate Dave Semenko).
Boxscore
Campbell Conference
Wales Conference
Final score
9
5
Head coach
Glen Sather (Edmonton Oilers)
Terry O'Reilly (Boston Bruins)
Honorary captain
Bruce MacGregor
Norm Ullman
Lineup
Starting lineup:

Reserves:

Starting lineup:

Reserves:

Scoring summary

Kurri (Gretzky, Robitaille) 1:07 first
Gretzky (Duchesne) 4:33 first
Mullen (Messier, Nieuwendyk) 7:57 second
Yzerman (Duchesne, Ciccarelli) 17:21 second
Leeman (Carson) 17:35 second
Mullen (Manson) 6:53 third (GWG)
Robitaille (Kurri, Gretzky) 12:18 third
Carson (Leeman, Hull) 14:35 third
Messier (Nieuwendyk, Mullen) 17:14 third

Neely (Lemieux, Stevens) 9:47 first (PPG)
Poddubny (Ridley, Robinson) 10:38 first
Wesley (LaFontaine, Mullen) 3:16 second
Poddubny (Tocchet, Robinson) 4:40 third
Ridley (Bourque, Tocchet) 9:35 third

Penalties

Messier, holding 9:35 first

Bourque, tripping 13:44 first

Shots on goal
14–9–15–38
13–10–14–37
Win/Loss
W - Mike Vernon
L - Reggie Lemelin
Notes
References
Podnieks, Andrew (2000). The NHL All-Star Game: 50 years of the great tradition. Toronto: HarperCollins, 211–214. ISBN 000200058X.