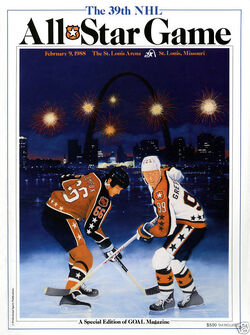 The 39th National Hockey League All-Star Game was held in the St. Louis Arena in St. Louis, Missouri, home to the St. Louis Blues, on February 9, 1988.
Lemieux makes his mark
Pittsburgh Penguins' centremen Mario Lemieux recorded six points (3–3–6) and scored the game-winner in overtime to lead the Wales Conference to a thrilling 6–5 victory. Lemieux's six points broke the previous record for most points in an All-Star Game, which was previously held by six players (four points). Montreal Canadiens' leftwinger Mats Naslund earned an assist on all three of Lemieux's goals and added two more to set an All-Star Game record with five assists. Both records have still to this day have not been broken.
Boxscore
Campbell Conference
Wales Conference
Final score
5
6 (OT)
Head coach
Glen Sather (Edmonton Oilers)
Mike Keenan (Philadelphia Flyers)
Honorary captain
Bob Plager1

Al Arbour
Lineup
Starting lineup:

Reserves:

Starting lineup:

Reserves:

Scoring summary

Hawerchuk (Bellows, Nieuwendyk) 3:25 1st
Gretzky (Probert) 18:46 1st
Robitaille (Savard, Lowe) 15:09 2nd
Savard (Robitaille, Anderson) 5:19 3rd
Robitaille (Anderson, Savard) 16:28 3rd

Sandstrom (Lemieux, Naslund) 14:45 1st
Gartner (Lemieux) 4:28 2nd
Stastny (Lemieux, Naslund) 10:08 2nd (PPG)
Lemieux (Naslund) 11:34 2nd
Lemieux (Naslund, Dineen) 8:07 3rd
Lemieux (Naslund, Dineen) 1:08 OT (GWG)

Penalties

McCrimmon, tripping 8:47 2nd
Bellows, hooking 2:53 3rd

Potvin, holding 10:11 1st
LaFontaine, tripping 7:27 2nd

Shots on goal
14–6–10–0–30
9–13–12–1–35
Win/Loss
L - Mike Vernon
W - Patrick Roy
Notes
Note 1: Bob Plager's brother, Barclay Plager, was also named honorary captain, but he died three days before the All-Star Game from a brain hemorrhage due to his battle brain tumour on February 6th. A moment of silence in his honor occurred before the start of the game.
Note 2: Doug Wilson was unable to start the game and was replaced by Al MacInnis in the starting lineup.