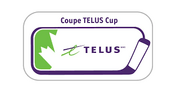 The 2022 Telus Cup was to be the men's Midget AAA national championship of Canada.  This is be the 49th edition of the tournament.
The event was originally to be hosted by the Sydney Rush. The winning bid was announced on May 18, 2021.[1]
The event was due to be held April 18-24, 2022 at the Membertou Sport and Wellness Centre in Membertou, Nova Scotia.
Change of Dates and event site
On March 22nd Hockey Canada announced the relocation of tournament to a central location in Alberta. The tournament will now be held May 16-22, 2022. The Sydney Rush will still qualify as the host team. Hockey Canada also announced they will work with the intended host to have the event hopefully in the not to distant future. The dates of the tournament was also done to give each region sufficient time to complete a tradition regional playdown schedule.[2]
Qualifying
The tournament had 149 teams participating in qualifying for this year's edition.
Pacific Region
2022 Telus Cup Pacific Regional champion:Vancouver North East Chiefs
Western Region
2022 Telus Cup West Regional champion: Notre Dame Hounds
Ontario (Central) Region
2022 Telus Cup Central Regional champion: Mississauga Reps
Quebec (Eastern) Region
Ligue de hockey midget AAA champion: Cantonniers de Magog
Atlantic Region
2022 Telus Cup Atlantic Regional champion: Moncton Flyers AAA
Schedule/Results
May 16th
May 17th
May 18th
May 19th
May 20th
Standings
Semifinals
May 21st
Championship Game
May 22nd
References