Note: Due to the slow return of hockey across Canada and the passing of Doug Mathieson on December 31, 2020 information on Allan Cup qualifying is not as readily available as it used to be. Doug maintained the allancup.ca website and chat board as well as being at every Allan Cup tournament dating back to at least the year 2000. [1]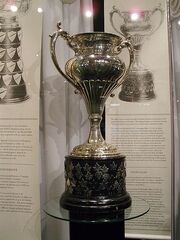 The 2022 Allan Cup is scheduled to be the men's national senior hockey championship of Canada. After the cancellation of the 2020 Allan Cup, Hockey Canada had not announced a location (or even a possible format change) for the 2021 edition. Dundas, Ontario was announced as the likely host for the 2021 event. Allan Cup Hockey, the only Senior AAA league in Canada cancelled its season on December 23rd. On February 5th Hockey Canada announced that all national championships under its jurisdiction were cancelled for the 2020-21 playing season. This includes the 2021 Centennial Cup, 2021 Allan Cup, 2021 Telus Cup, and 2021 Esso Cup.[2]
The Dundas Real McCoys are apparently being designated as the host team for the 2022 event.[3] A post on the Allan Cup chatboard had a post from Dundas indicating that Hamilton is likely to be named co-host.
On January 4th the Hamilton Steelhawks announced they would not be participating in the 2021-22 season.[4]
At the end of March the Dundas Real McCoys announced that Hockey Canada had decided to cancel the tournament for the third year in a row citing teams and leagues attempting to recover and rebuilt after the COVID-19 pandemic.
Qualifying
As of early November the only announced teams for qualifying have been the four members of Allan Cup Hockey which includes the Dundas Real McCoys, Brantford Blast, Caledon Crusaders, and the Hamilton Steelhawks and the Innisfail Eagles who play in the Ranchland Senior Hockey League in Alberta.
Traditionally, the tournament have the host team an five qualifiers compete. Due to the lingering affects of the COVID-19 pandemic many teams have been in hibernation mode in terms of activity and fund raising until the summer of 2021. Some leagues began play with in October and November while other leagues like Allan Cup Hockey are not starting until January. These circumstances may not allow for teams that are participating in qualifying until early 2022 to indicate that they are in fact participating.
References