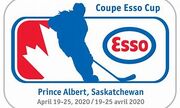 The 2021 Esso Cup is the women's Midget AAA national championship of Canada. This is the 12th edition of the tournament.
Awarding of Tournament
[
]
The event is to be hosted by the Prince Albert Bears. The original winning bid was announced on September 28, 2018 for the 2020 tournament. As part of a May 22, 2020 announcement Prince Albert was announced as the 2021 tournament host.
Lloydminster, Alberta was originally intended to be the 2021 host[1] but were pushed back to the 2022 tournament as part of the same announcement.[2]The tournament is to be held April 18-24, 2021 at the Art Hauser Centre in Prince Albert, Saskatchewan[3]
Cancellation
[
]
On February 5th Hockey Canada announced that all national championships under its jurisdiction were cancelled for the 2020-21 playing season. This includes the 2021 Centennial Cup, 2021 Allan Cup, 2021 Telus Cup, and 2021 Esso Cup.[4]
Qualifying
[
]
Host
[
]
Atlantic Region
[
]
Qualifier:
Participating Leagues
[
]
Eastern Region (Quebec)
[
]
Qualifier:
Central Region (Ontario)
[
]
Qualifer:
Western Region
[
]
Qualifier:
Participating Leagues
[
]
Pacific Region
[
]
Qualifier:
Participating Leagues
[
]
Alberta Female Hockey League

British Columbia Female Midget AAA
References
[
]