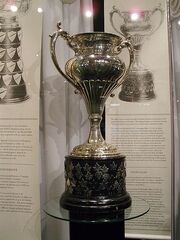 The 2021 Allan Cup is scheduled to be the men's national senior hockey championship of Canada. After the cancellation of the 2020 Allan Cup, Hockey Canada had not announced a location (or even a possible format change) for the 2021 edition.
Allan Cup Hockey, the only Senior AAA league in Canada cancelled its season on December 23rd.
The only other teams besides the four members of Allan Cup Hockey to declare for Senior AAA for the 2020-21 season were the Innisfail Eagles and the Stony Plain Eagles. Both teams ended up cancelling their seasons due to the COVID-19 pandemic.
On February 5th Hockey Canada announced that all national championships under its jurisdiction were cancelled for the 2020-21 playing season. This includes the 2021 Centennial Cup, 2021 Allan Cup, 2021 Telus Cup, and 2021 Esso Cup.[1]
References
[
]