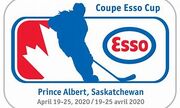 The 2020 Esso Cup was to be the women's Midget AAA national championship of Canada. This was be the 11th edition of the tournament.
The event was to be hosted by the Prince Albert Bears. The winning bid was announced on September 28, 2018. The tournament was to be held April 19-25, 2020 at the Art Hauser Centre in Prince Albert, Saskatchewan[1]

The tournament would be cancelled on March 12th when Hockey Canada announced that all games played under their supervision were cancelled until further notice.
Qualifying
94 Participating teams were at various stages of qualifying when the cancellation announcement was made.[2]
Atlantic Region
Quebec (Eastern) Region
(8 teams) Hockey Québec Playoffs cancelled prior to starting
Ontario (Central) Region
(46 teams) Ontario Women's Hockey Association Playoffs cancelled prior to starting
Western Region
Pacific Region
Alberta Female Hockey League

(6 teams) was in the preliminary round

British Columbia Female Midget AAA

(5 teams) was about to start the quarterfinals
References