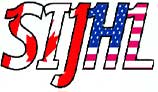 This is the 2020-21 Superior International Junior Hockey League season. This is the league's 20th season.
On March 1, 2021 the league announced the cancellation of the balance of the 2020-21 playing season.[1]
Membership Changes
On June 12, 2019 it was announced the Minnesota Iron Rangers would take a one year leave of absence for the 2019-20 season with the intention of relocating somewhere within the Iron Range of Minnesota.[2] Other sources indicate that the team may have in fact folded.[3] The team does not return for the 2020-21 season.
On July 28th the league announced a tentative November 14th starting date.[7] Some sources indicate the league's two US-based teams, the Thief River Falls Norskies and the Wisconsin Lumberjacks may end up taking the season off due to border crossing issues.[8] On November 2nd it became a reality when the league announced that neither team would be playing this season.[9]
The Teams
Standings

As of last games played on December 5th

References