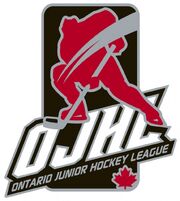 This is the 2020-21 Ontario Junior Hockey League season. This is the league's 11th season as a re-established league after the league members played in 2 separate leagues for the 2009-10 season.
On April 13th the league would announce the cancellation of the 2020-21 playing season.[1]
Membership changes
Teams
North-West Conference
North Division
Team
Centre
Arena
Joined
Aurora Tigers
Aurora, Ontario
Aurora Community Centre
1997
Collingwood Blues
Collingwood, Ontario
Eddie Bush Memorial Arena
2019
Markham Royals
Markham, Ontario
Markham Centennial Centre
1993
Pickering Panthers
Pickering, Ontario
Pickering Recreation Complex
1998
Stouffville Spirit
Stouffville, Ontario
Stouffville Arena
1995
West Division
Team
Centre
Arena
Joined
Brantford 99ers
Brantford, Ontario
Wayne Gretzky Sports Centre
1971
Buffalo Jr. Sabres
Buffalo, New York
HarborCenter
1998
Burlington Cougars
Burlington, Ontario
Wave Twin Rinks
1971
Georgetown Raiders
Georgetown, Ontario
Gordon Alcott Arena
1975
Milton Menace
Milton, Ontario
Milton Memorial Arena
1987
Oakville Blades
Oakville, Ontario
Sixteen Mile Sports Complex
1971
South-East Conference
South Division
Team
Centre
Arena
Joined
Brampton Admirals
Brampton, Ontario
Brampton Memorial Arena
1998
Mississauga Chargers
Mississauga, Ontario
Port Credit Memorial Arena
1995
North York Rangers
North York, Ontario
Carnegie Centennial Centre
1998
St. Michael's Buzzers
Toronto, Ontario
St. Michael's College School Arena
1995
Toronto Jr. Canadiens
Downsview, Ontario
Buckingham Arena
1998
Toronto Patriots
Rexdale, Ontario
Westwood Arena
1998
East Division
Team
Centre
Arena
Joined
Cobourg Cougars
Cobourg, Ontario
Cobourg Community Centre
1992
Lindsay Muskies
Lindsay, Ontario
Lindsay Recreation Centre
1989
Trenton Golden Hawks
Trenton, Ontario
Duncan McDonald Memorial Community Gardens
1998
Wellington Dukes
Wellington, Ontario
Wellington & District Community Centre
1998
Whitby Fury
Whitby, Ontario
Iroquois Park Sports Centre
1998
Standings
To be added after the regular season
Buckland Cup Playoffs
Format
The top eight teams in each conference qualify for the playoffs with the division winners are seeded 1-2 and the first place team plays the eighth place team 2 vs7, 3 vs 6, 4 vs 5. in the conference quarterfinals. All series are best-of-seven.
The Buckland Cup champions will advance to the 2021 Dudley Hewitt Cup. The winner of that tournament will advance to the 2021 Centennial Cup.
References
</noinclude>