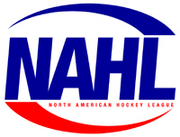 This is the 2020-21 North American Hockey League season. This is the league's 36th season under this name and its 46th dating back to its founding as the Great Lakes Junior Hockey League in 1975 when the Michigan Junior Hockey League and the Wolverine Junior A Hockey League merged.
On June 19th the league issued a release stating that it was intending to begin play in September as usual with the NAHL showcase in Blaine, Minnesota and play a full schedule and playoffs and that tryout camps would begin in July. However a delayed start of the season with a reduced schedule may be used if the circumstances warrant.[1] On July 27th the league announced a planned start date of October 9th with a full schedule planning on being played.[2]
On November 24th the Midwest Division had play halted until at least December 31st due to complication associated with the recently issued order by the state of Minnesota.[3]
On October 15, 2019 the league announced the addition of a team to be based in Wichita Falls, Texas for the 2020-21 season.[4]On November 26, 2019 the league announced the team would be named the Wichita Falls Warriors.[5]
On February 28, 2020 the Topeka Pilots were announced as relocating to Kansas City area[6] and on May 6th announced the team would assume the Kansas City Scouts name.[7] The team plans on playing at the Kansas City Ice Center in Shawnee, Kansas for the 2020-21 season pending the completion of a new arena.
On May 6, 2020 the league announced that effective immediately the St. Cloud Blizzard would be renamed the St. Cloud Norsemen.[8] The team cited a lack of time to change the team identity for the 2019-20 season.
On May 11, 2020 the league announced the relocation of the Wilkes-Barre/Scranton Knights to Danbury, Connecticut where they will be renamed the Danbury Jr. Hat Tricks.[9]
On June 16, 2020 the El Paso Rhinos were added to theNorth American 3 Hockey League for the 2020-21 season from the Western States Hockey League. They will also join the league for the 2021-22 season.[10]
On August 24th the Corpus Christi IceRays announced they would be taking a one year leave of absence.[11]
On August 26th, the Kansas City Scouts announced they would be sitting out the 2020-21 season due to the effects of the COVID-19 pandemic on their operations.[12]
Also on August 26th, the Fairbanks Ice Dogs were reportedly relocating to Marshall, Minnesota for the 2020-21 season due to quarantine and testing restrictions in the state of Alaska making playing in Alaska not feasible.[13] The team will be based out of the Red Baron Arena and Expo for the season.[14]
A few days later it was reported that the Kenai River Brown Bears were also relocating to an undisclosed location in Minnesota. The New Mexico Ice Wolves also announced that they would be relocating to El Paso, Texas due to restrictions in place in the state of New Mexico.[15] The Kenai River Brown Bears would later be announced as relocating operations to Anoka, Minnesota and would play their games at the Breezy Point Hockey Center in Breezy Point, Minnesota which lost their North American 3 Hockey League team after last season.[16]
On September 16, 2020 the Springfield Jr. Blues announced they would be suspending operations for the 2020-21 season citing the state of Illinois not allowing gatherings of 50 or more.[17]
Over the weekend of September 19-20, 2020 word was announced that the Jamestown Rebels were going dormant for the 2020-21 season. Based on the state of New York not allowing spectators at events this year and that USA Hockey would not sanction play in the state meaning it would not cover insurance for the teams in the state.[18] The Rebels announcement was being held off as the team owner was trying to find a temporary home in either South Dakota or Wisconsin.[19]
Division
Team
Arena
Location
Central
Aberdeen Wings
Odde Ice Center
Aberdeen, South Dakota
Austin Bruins
Riverside Arena
Austin, Minnesota
Bismarck Bobcats
V.F.W. Sports Center
Bismarck, North Dakota
Minnesota Wilderness
Northwoods Credit Union Arena
Cloquet, Minnesota
Minot Minotauros
Maysa Arena
Minot, North Dakota
St. Cloud Blizzard
Dave Torrey Arena
St. Cloud, Minnesota
Midwest
Chippewa Steel
Chippewa Area Ice Arena
Chippewa Falls, Wisconsin
Fairbanks Ice Dogs
Big Dipper Ice Arena/Red Baron Arena and Expo
Fairbanks, Alaska/Marshall, Minnesota
Janesville Jets
Janesville Ice Arena
Janesville, Wisconsin
Kenai River Brown Bears
Soldotna Sports Center/Breezy Point Hockey Center
Soldotna, Alaska/Breezy Point, Minnesota
Minnesota Magicians
Richfield Ice Arena
Richfield, Minnesota
Springfield Jr. Blues
Nelson Center
Springfield, Illinois
East
Danbury Jr. Hat Tricks
Danbury Ice Arena
Danbury, Connecticut
Jamestown Rebels
Northwest Arena
Jamestown, New York
Johnstown Tomahawks
Piney Orchard Ice Arena
Odenton, Maryland
Maine Nordiques
Androscoggin Bank Colisée
Lewiston, Maine
Maryland Black Bears
Cambria County War Memorial Arena
Johnstown, Pennsylvania
New Jersey Junior Titans
Middletown Ice World Arena
Middletown, New Jersey
Northeast Generals
New England Sports Village
Attleboro, Massachusetts
South
Amarillo Bulls
Amarillo Civic Center
Amarillo, Texas
Corpus Christi IceRays
American Bank Center
Corpus Christi, Texas
Kansas City Scouts
Kansas City Ice Center
Shawnee, Kansas
Lone Star Brahmas
NYTEX Sports Centre
North Richland Hills, Texas
New Mexico Ice Wolves
Outpost Ice Arenas/Sierra Providence Event Center
Albuquerque, New Mexico/El Paso, Texas
Odessa Jackalopes
Ector County Coliseum
Odessa, Texas
Shreveport Mudbugs
Hirsch Coliseum
Shreveport, Louisiana
Wichita Falls Warriors
Kay Yeager Coliseum
Wichita Falls, Texas
Community content is available under
CC-BY-SA
unless otherwise noted.