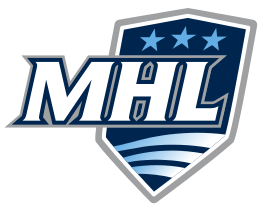 This is the 2020-21 Maritime Hockey League season. This is the league's 54th season dating back the league's founding in 1967 as the Metro Valley Junior Hockey League.
Resumption of Play
As Atlantic Canada was one of the least hit regions of Canada with the COVID-19 pandemic the league is in a position to return to play with a normal scheduled start as the four provinces in the region have allowed inter-provincial travel without a quarantine period.
Due to the province of New Brunswick being the hardest hit of the three provinces to make up the league the Summerside Western Capitals, who are the only team from Prince Edward Island in the league, are moved from the North Division, which have a remaining membership of just New Brunswick teams, to the South Division, which is exclusively made up of Nova Scotia based teams, for the 2020-21 playing season.
On April 8th, the Edmundston Blizzard announced they had decided to end their playing season due to restrictions in Edmundston and the upper Madawaska region with the region being in the red zone. The team had been unable to practice since March 25th and there was no indication that restrictions would be eased in a relatively short period to enable the team to play in the league playoffs.[1] The team's remaining game was cancelled and the league was evaluating its' options for a playoff format for the North Division.
Suspending of Playoffs in Nova Scotia
Due to a spike in cases of COVID-19 in and around the Halifax Regional Municipality,
On April 25th the Government of Nova Scotia had asked all Nova Scotians not to travel outside their local community unless it is for essential travel, such as work, school, child care, or medical or legal appointments. The announcement on Sunday also set the gathering limit outside of Halifax to 10 people, whether indoors or outdoors. These restrictions are effective immediately and will remain in effect until at least May 20th.
Later in the day, Hockey Nova Scotia announced that it was pausing all sanctioned activities indefinitely across the province, including practices, games, training and development sessions, tryouts, and ID camps.
As a result of these announcements, the Maritime Junior Hockey League (MHL) is postponing (On April 26th all hockey activities for its six Nova Scotia teams until further notice, including the final three games in the Eastlink South Playoff Round-Robin which were scheduled for Monday night.[2]
On April 27th the league issued a release stating that eight teams were ending their playing seasons. Amherst Ramblers, Grand Falls Rapids, Pictou County Crushers, South Shore Lumberjacks, Summerside Western Capitals, Truro Bearcats, Valley Wildcats, and Yarmouth Mariners all ended their seasons as a result of local and provincial restrictions.[3]
Membership Changes
None
Teams
2020-21 Temporary alignment, due to issues related to COVID-19 pandemic.
Eastlink South Division
Team
Joined
Centre
Arena
Amherst Ramblers
1967
Amherst, Nova Scotia
Amherst Stadium
Pictou County Crushers
1967
New Glasgow, Nova Scotia
Pictou County Wellness Centre
South Shore Lumberjacks
2004
Bridgewater, Nova Scotia
Lunenburg County Lifestyle Centre
Summerside Western Capitals
1991
Summerside, Prince Edward Island
Consolidated Credit Union Place
Truro Bearcats
1997
Truro, Nova Scotia
Rath Eastlink Community Centre
Valley Wildcats
1986
Berwick, Nova Scotia
Kings Mutual Century Centre
Yarmouth Mariners
1976
Yarmouth, Nova Scotia
Mariners Centre
Eastlink North Division
Team
Joined
Centre
Arena
Campbellton Tigers
1996
Campbellton, New Brunswick
Campbellton Memorial Civic Center
Edmundston Blizzard
1983
Edmundston, New Brunswick
Jean-Daigle Centre
Fredericton Red Wings
2014
Fredericton, New Brunswick
Grant-Harvey Centre
Grand Falls Rapids
2003
Grand Falls, New Brunswick
E. & P. Senechal Centre
Miramichi Timberwolves
2000
Miramichi, New Brunswick
Miramichi Civic Centre
Standings
Note: Due to an unequal number of games played point percentage was used to determine placement.
Eastlink South
Eastlink North
Playoffs
Based on circumstances the playoff champion will not be awarded the Canadian Tire Cup.
South Division
The South Division is playing a single round robin play in round from April 14th to 26th. Each team is playing 3 home games and 3 road games. The top four teams will advance to the South Division Semifinal round.
On April 26th the South Division playoffs were suspended until further notice due to a provincial lock down in Nova Scotia. On April 27th all of the teams participating in the playoffs opted to end their seasons.[4]
South Division Play In Round Results
South Division Play In Round Standings
Standings as of as of last games played on April 24th
North Division
The North Division was planning on playing a round robin play in round with five teams (as the Edmundston Blizzard were forced to withdraw due to restrictions in place in their home region reducing the number of teams to four). On April 21st the league issued a release stating that Grand Falls, New Brunswick is in the orange phase of COVID-19 recovery and the Rapids are able to practice but cant play games at this point. The league was hoping to be able to release the balance of the schedule by April 23rd.[5] The league would release the schedule on April 23rd with all of Grand Falls games being on the back end of the schedule. The league also announced any game that they would not be able to play would be a forfeit. The round robin was a seeding round so the forfeits would not eliminate the team from contention just cause them to be seeded lower. Grand Falls would end up withdrawing before playing any games. The top seed from the round robin advances to directly to the final. The second and third seeds meet in a best-of-five semifinal series.
North Division Play In Round Results
Eastlink North Play In Round Standings
North Division Semifinal
(best-of-five) Miramichi Timberwolves vs Campbellton Tigers
North Division Final
(best-of-five)
On May 13th, the league announced that the North Division final would be delayed due to an increase of COVID-19 cases in the city of Fredericton.[6] Fredericton Red Wings vs semifinal winner
References
Community content is available under
CC-BY-SA
unless otherwise noted.