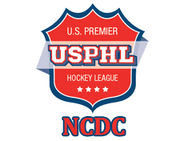 This is the 2019-20 National Collegiate Development Conference season. This is the league's third season.
Cancellation of Playoffs
On March 12, 2020 the league released the following statement. "The USPHL announced Thursday its decision to suspend Premier and Elite National Championships effective immediately. The decision was unanimously made by the USPHL Board of Directors with the best interest of USPHL players and staff in mind."[1]
Membership Changes
According to a January 28, 2019 posting on the oursportscentral.com website the Lewiston, Maine-based Twin City Thunder organization will be adding a team to the NCDC for the 2019-20 season.[2] The organization presently has a team in the premier division of the USPHL. The league posted this change along with the return of the Rochester Monarchs as well as the renaming of the Syracuse Stars to the Utica Jr. Comets for the 2019-20 season.[3]
The Rochester Monarchs were notified sometime in January or February of 2020 they were to be removed from the NCDC after the 2019-20 season due to on ice performance. The organization would also later withdraw from the USPHL's Premier Division in order to focus on youth hockey.[6]
Teams
National Collegiate Development Conference

Team
Location
Arena
Boston Bandits
Bridgewater, Massachusetts &
Bourne, Massachusetts
Bridgewater Ice Arena &
Gallo Ice Arena
Boston Jr. Bruins
Marlborough, Massachusetts
New England Sports Center
Connecticut Jr Rangers
Stamford, Connecticut
Chelsea Piers
Islanders Hockey Club
Tyngsborough, Massachusetts
Skate 3
Jersey Hitmen
Wayne, New Jersey
Capital One Bank Ice Vault Arena
New Hampshire Jr. Monarchs
Hooksett, New Hampshire
Tri-Town Ice Arena
New Jersey Rockets
Berkeley Heights, New Jersey
Prudential Center & Bridgewater Sports Arena
Northern Cyclones
Hudson, New Hampshire
Cyclones Arena
P.A.L. Jr. Islanders
Hauppauge, New York & Syosset, New York
The Rinx-Hidden Pond Park & Islanders Iceworks
South Shore Kings
Foxborough, Massachusetts
Foxboro Sports Center
Twin City Thunder
Auburn, Maine
Androscoggin Bank Colisée
Utica Jr. Comets
Utica, New York
Adirondack Bank Center at Utica Memorial Auditorium
Standings
Playoffs
Format
The top eight teams qualify for the playoffs. All rounds are best-of-three. The playoffs were cancelled prior to starting due to the COVID-19 pandemic.
References