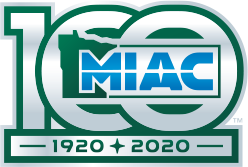 This is the 2019-20 Minnesota Intercollegiate Athletic Conference Men's Hockey season.
Membership Changes
The conference announced on May 22, 2019 that the St. Thomas Tommies will be involuntarily removed from the conference in all sports after the 2020-21 academic year. The decision was made after consideration with the other members of the conference as St. Thomas has accounted for nearly half of the conference championships in all sports from 2003 to 2018. The school is leaving the conference in good standing.[1]
Membership
Standings
The MIAC uses a system where teams are awarded three points for a regulation or overtime win, two points for a shootout win, one point for a shootout loss, no points for an regulation or overtime loss. The NCAA allows shootout for conference games; but, considers games determined in a shootout to be a tie for record keeping purposes and these standings reflect the NCAA policy for W-L-T but the Pts. totals are based on the conference's system.
Ed Saugestad Trophy Conference Tournament
Format
The top five teams qualify for the single elimination tournament. The 4th seed plays the fifth seed in the first round. The top seed plays the first round winner and the 2nd seed plays the 3 seed in the semifinals. The semifinal winners meet for the conference championship, the Saugestad Cup, and the conference's automatic bid to the 2020 NCAA Division III Men's Ice Hockey Tournament.
Quarterfinal
Semifinals
Final
References