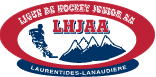 This is the 2019-20 Laurentides-Lanaudiere Junior AA Hockey League season. A winner of each division/region plays for the 2020 Coupe Dodge. The point totals include "FPP" (Fair Play Points) which are derived from penalty minutes and suspension or lack thereof.

The balance of the league's season was cancelled on March 12th when Hockey Canada announced all activity under its' jurisdiction was cancelled for the balance of the season.
Membership Changes
Edit
The league had three teams change their make up as several communities changed who they were combined with for the season:
Standings
Edit
The league (along with most junior leagues in Quebec) uses what is called a Fair Play Point which is a bonus point in the standings if the team meets certain requirements in terms of avoiding penalties. To be added upon completion of the regular season.
The leagues website is not listing the overall standings but the placements below are correct.
The league is using an elimination tournament to decide the league champion. The playoff champion advances to the 2020 Coupe Dodge.
It appears the league playoffs had not started when the all play under the sanction of Hockey Canada was cancelled for the season.
Community content is available under
CC-BY-SA
unless otherwise noted.