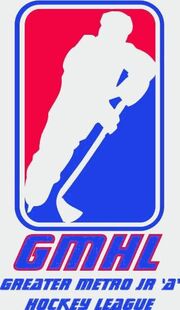 This is the 2019-20 Greater Metro Junior A Hockey League season. This is the league's 13th season.
Play Suspended
The league released the following statement on March 13, 2020:
"The Greater Metro Jr. A Hockey League has been forced to postpone the Russell Cup Playoffs for two weeks.
Late in the evening of March 12th, 2020, the GMHL was notified by our underwriting insurance provider that a mandatory two week shutdown must be implemented. Our insurance & sanctioning body is the same sanctioning body which governs all of junior hockey in Canada, and we are required to follow the direction of the sanctioning body." [1]
Following the two weeks, a final decision regarding the playoffs will be provided.
Membership Changes
On March 8, 2019 the league posted that applications for the head coach position were being taken for the Bancroft Rockhounds expansion team for the 2019-20 season.[6]
On January 3, 2020 the league announced that the Ottawa Sharpshooters were removed from the league schedule "due to the ownership folding their operation"[7]
Teams
North Division
South Division
West Division
Relocate, renamed, or fold prior to or during season
Standings
North Division
Note:Ottawa stats are prior to two games forfeited December 18 and 19, 2019 3-0 losses to Bradford Bulls and New Tecumseth. Numbers in parenthesis are considered official league stats
South Division
West Division
Russell Cup Playoffs
Format
All teams qualify. Teams are re-seeded after each round. Single elimination rounds are held until both conferences are down to 8 teams. The division quarterfinals are best-of-three. The division semifinals are best-of-five. The division final and Russell Cup final are best-of-seven.
The playoffs were suspended March 12th during the division final round.
North Preliminary Round 1
South Preliminary Round 1
West Preliminary Round
North Preliminary Round 2
South Preliminary Round 2
North Quarterfinals
South Quarterfinals
North Semifinals
South Semifinals
North Final
South Final
West Final
Had not started as of the time of the suspending of the playoffs.
References