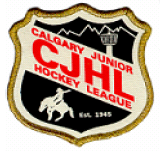 This is the 2019-20 Calgary Junior Hockey League season. This is the league's 75th season.
The balance of the league's season was cancelled on March 12th when Hockey Canada announced all activity under its' jurisdiction was cancelled for the balance of the season.
Membership changes
League Organization
The modern CJHL is governed by the by-laws of the Minor Hockey Association of Calgary which stipulates that each of Calgary's four community hockey associations operate at least one team. Presently, each association operates two teams that play a 35 game season. In the past, teams from the Calgary area have also participated in the league. Both the Okotoks Oilers and the High River Flyers of the Heritage Junior B Hockey League were originally members of the CJHL. Due to the close proximity of the member teams the eight teams use four rinks for their games: the Max Bell Centre Calgary (rinks 1 & 2), the Stu Peppard Arena, and the Rose Kohn Arena.
Standings
Playoffs
Format
All eight teams qualify for the playoffs. The teams are re-seeded after the quarterfinals with the winners being re-seeded as #1, #2, #3 and #4 based on regular season record. With the exception of the best-of-five final all series are first team to at least 3 points wins the series (ties are allowed in the playoffs). The playoff champion advances to the 2020 Russ Barnes Trophy (Alberta Junior B championship).
Quarterfinals
Semifinals
Finals
Cancelled prior to starting