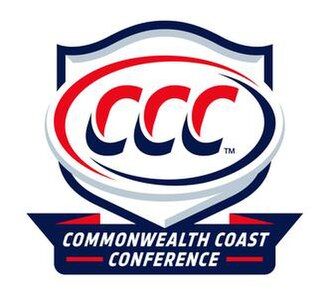 This is the 2019-20 Commonwealth Coast Conference season. This is the conference's fourth season under this name.
On October 4, 2019 the Commonwealth Coast Conference, an all-sport NCAA Division III conference, announced it would be starting to sponsor women's hockey. It will assume operations of the Colonial Hockey Conference. As part of the announcement it was announced that the Suffolk Rams would be joining the conference for 2020-21 and that Western New England Golden Bears would be starting a women's team for 2020-21. This will make six of the seven members of the CHC also being full members of the CCC with the Becker Hawks being an associate member of the conference for both men's and women's hockey. With having seven members the conference will retain its automatic bid to the NCAA tournament.[1]
For 2019-20 the conference adopted a modified point system as allowed by the NCAA where three points for a regulation time win two points for an overtime or shootout win, one point for an overtime or shootout loss, and no points for a regulation loss.  The league would play five-on-five overtime for five minutes and then three-on-three overtime for five additional minutes and then a sudden death shootout. Games decided in overtime are considered ties for NCAA records and PairWise calculations for NCAA tournament selection.
Note: UNE finished ahead of Endicott via tie-breaker after finishing tied head-to-head, the second tie-break is conference record against other conference opponents in rank order in which UNE earned 8 points against Curry while Endicott earned 6.
The top six teams qualify for the single elimination tournament. All games are held at the higher seeded team's rink. The tournament winner earns the conference's automatic bid to the 2020 NCAA Division III Men's Ice Hockey Tournament.
Community content is available under
CC-BY-SA
unless otherwise noted.