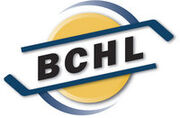 This is the
2019-20 British Columbia Hockey League season.
This is the league's 30th season under this name and its 58th season overall dating back to the founding of the
Okanagan Mainline Junior Hockey League
in 1961.
The regular season will begin on Friday, Sept. 6 and the regular season is scheduled to conclude on Sunday, Feb. 23, 2020 with the playoffs beginning around March 1, 2020.
Each team will play a 58 game schedule with 28 home games, 28 road games and 2 games played at the league's annual showcase which will be held October 2 to 5, 2019 which returns after not being held in 2018.[1]
The league will introduce what is called the LNG Canada BCHL Road Show which will involve the Prince George Spruce Kings and Langley Rivermen playing a pair of games at the Tamitik Arena in Kitimat on February 15 and 16, 2020.[2]
Suspending of Play
Edit
The Canadian Junior Hockey League announced Thursday that effective Friday, March 13, all games and hockey-related activity involving its member clubs have been cancelled, until further notice, due to the continued threat of the global COVID-19 (Coronavirus) Pandemic as well as potential exposure and contamination of its players, team staff members, on and off-ice officials, volunteers and fans.[3]
Membership Changes
Edit
Standings
Edit
Island Division
Edit
Interior Division
Edit
Mainland Division
Edit
Fred Page Cup Playoffs
Edit
With the slight realignment of the conferences for the 2017-18 season the playoff format was modified. Sixteen of the seventeen teams will qualify for the playoffs.The top four teams in the Island and Mainland Divisions qualify for the playoffs. The top six teams in the Interior Division qualify. The last place team in each division will be seeded 7 and 8 in the Interior Division based on points The Island and Mainland Divisions will have two rounds and then those two division winners will meet in the semifinal series while the Interior Division Final is being held. The winners of the Semifinal series and the Interior Division final will meet for the league championship and the Fred Page Cup. All series are best-of-seven.
Interior Division Quarterfinals
Edit
Island Division Semifinals
Edit
Mainland Division Semifinals
Edit
The balance of the leagues's season was cancelled on March 12th when Hockey Canada announced all activity under its' jurisdiction was cancelled for the balance of the season.
The Page Cup champion advances to the 2020 Doyle Cup against the champion of the Alberta Junior Hockey League with the winner of that best-of-seven series advancing to the 2020 Centennial Cup being held in Portage la Prairie, Manitoba as the Pacific region representative.
References
Edit
Community content is available under
CC-BY-SA
unless otherwise noted.