2018 Stanley Cup Finals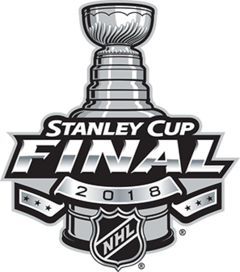 Teams
1
2
3
4
5
Games
Washington Capitals 
4
3
3
6
4
</td><td>4</td><tr style="text-align: center;background-color:#F7F7F7;vertical-align:middle" align="left"><td style="white-space:nowrap;text-align:right">Vegas Golden Knights </td>

<td>6</td> <td>2</td> <td>1</td><td>2</td> <td>3 </td> </td> <td>1

</tr></table>* – Denotes overtime period(s)</td></tr><tr><td >

Location:
Washington: Capital One Arena (3, 4)
Vegas: T-Mobile Arena (1, 2, 5)
Format:
Best-of-seven
Coaches:
Washington: Barry Trotz
Vegas: Gerard Gallant
Captains:
Washington: Alexander Ovechkin
Vegas: None
National anthem:
Washington:
Caleb Green
Bob McDonald
Vegas: Carnell Johnson
Referees:
Marc Joannette (1, 3, 5), Wes McCauley (1, 3, 5), Chris Rooney (2, 4), Kelly Sutherland (2, 4)
Dates:

May 28 – June 7

MVP:
Alexander Ovechkin
Series-winning
goal:
Lars Eller (12:23, third, G5)
Networks:
Canada (English): CBC
Canada (French): TVA Sports
United States:
NBC and NBCSN
Announcers:
(CBC) Jim Hughson, Craig Simpson, and Scott Oake

(TVA) Félix Séguin, Patrick Lalime, and Renaud Lavoie
(NBC/NBCSN) Mike Emrick, Eddie Olczyk, and Pierre McGuire
(NHL International) Steve Mears and Kevin Weekes

(NBC Sports Radio) Kenny Albert, Joe Micheletti, and Ray Ferraro, Steve Goldstein
</td></tr>

</td></tr><tr><td align="center"></td></tr></table>

The 2018 Stanley Cup Finals was the championship series of the National Hockey League's 2017-18 NHL season, and the culmination of the 2018 Stanley Cup playoffs. This was the 125th year of the Stanley Cup's presentation. The Eastern Conference champion Washington Capitals defeated the Western Conference champion Vegas Golden Knights four games to one to win their first championship in franchise history in their 44th season. The Vegas Golden Knights made the Finals in their first season, while this was the second Finals appearance for the Capitals. Washington Capitals captain Alexander Ovechkin was awarded the Conn Smythe Trophy as the most valuable player of the playoffs.

Community content is available under

CC-BY-SA

unless otherwise noted.