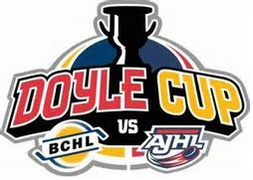 This is the 2018 Doyle Cup championship to determine the Alberta/British Columbia Junior A Championship. The winner moves on to the 2018 Royal Bank Cup.
The Doyle Cup makes its return after being abandoned after the 2012 tournament (along with the Anavet Cup) in favor of the Western Canada Cup which included the champions of the four western provinces and gave two bids to the Royal Bank Cup.  It was announced prior to the 2017 WCC that the WCC was being abandoned due to cost concerns among the four participating leagues and the format would revert to the pre-2013 format of the AJHL and BCHL champions meeting for the Doyle Cup and the Pacific region spot in the Royal Bank Cup and the SJHL and MJHL champions meeting for the Anavet Cup and the Western region spot in the 2018 Royal Bank Cup.
Teams
2018 Doyle Cup Series
Results
The Wenatchee Wild advances to the 2018 Royal Bank Cup being held in Chilliwack, British Columbia.